Bubble Bobble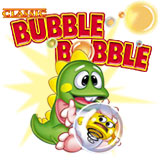 The third world war is raging.
An evil wizard has transformed two children, Bub and Bob, into tiny dinosaurs and kidnapped their girlfriends. All have been banished to a strange world of platforms and monsters.
To return home and rescue their girlfriends Bub and Bob need to fight their way through 100 stages.
They can run and jump from platform to platform and blow bubbles to capture monsters. Once a monster is caught, Bub or Bob can use their horns or tail spikes to burst the bubble and release a bonus item. As the stages progress, special bubbles will appear with useful items such as rainbows and water.
This game has multiple endings. Two players need to play cooperatively to see the true ending
Dann gibt's noch ein Soundfile und ein Video.
Ach ja, früher war eben doch alles besser!
Da wurde der 3te Weltkrieg als Ausgangsposition für das schnuckeligste meiner Lieblings-Computerspiele deklariert. Sicherlich wäre keine andere Rahmenhandlung ähnlich »glaubwürdig« gewesen.
Aber Bubble Bobble haben es noch viel weiter geschafft:
http://www.bubble-bobble-games.com/
Posts that contain Bubble Bobble per day for the last 30 days.